Hangar 18 has recently been awarded not one but five Summit Creative Awards in 2018. We were thrilled as we have not entered our work for some time and felt compelled to see how we measure up creatively. After jumping up and down for half a minute as soon as we first heard the news, we reflected what this really meant and how we should share it.
What is a Summit Creative Award?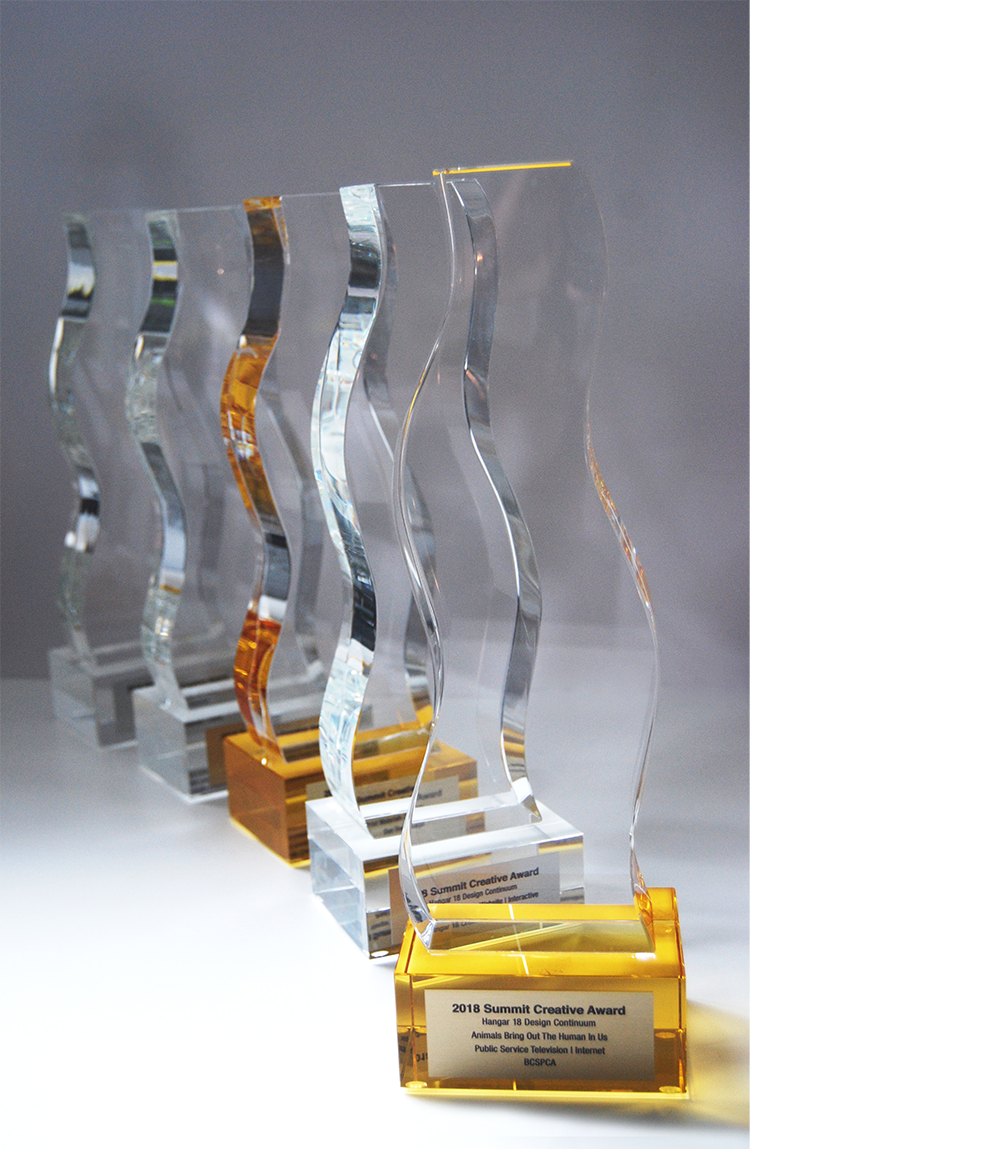 The Summit Creative Award is a prestigious and international award honouring the best in websites, design, video, advertising, mobile & social from firms under $30 million in billings.
In the distant past, we've won several Summit Creative Awards but never more than two at a time. Winning five Summit Creative Awards at a significant award show is a huge shot in the arm. To add to our astonishment, we judicially entered five projects in five different categories. They all won either a gold or silver.
Gold – Sun Towers/Belford Properties – Print Material Campaign

Gold – BCSPCA – Public Service Television/Internet

Silver – The Centre/Belford Properties – Brochure Consumer

Silver – Hangar 18 Design Continuum – Corporate ID

Silver – Hangar 18 Design Continuum – Website/Interactive Self Promotion
SUN TOWERS PRINT MATERIAL CAMPAIGN – GOLD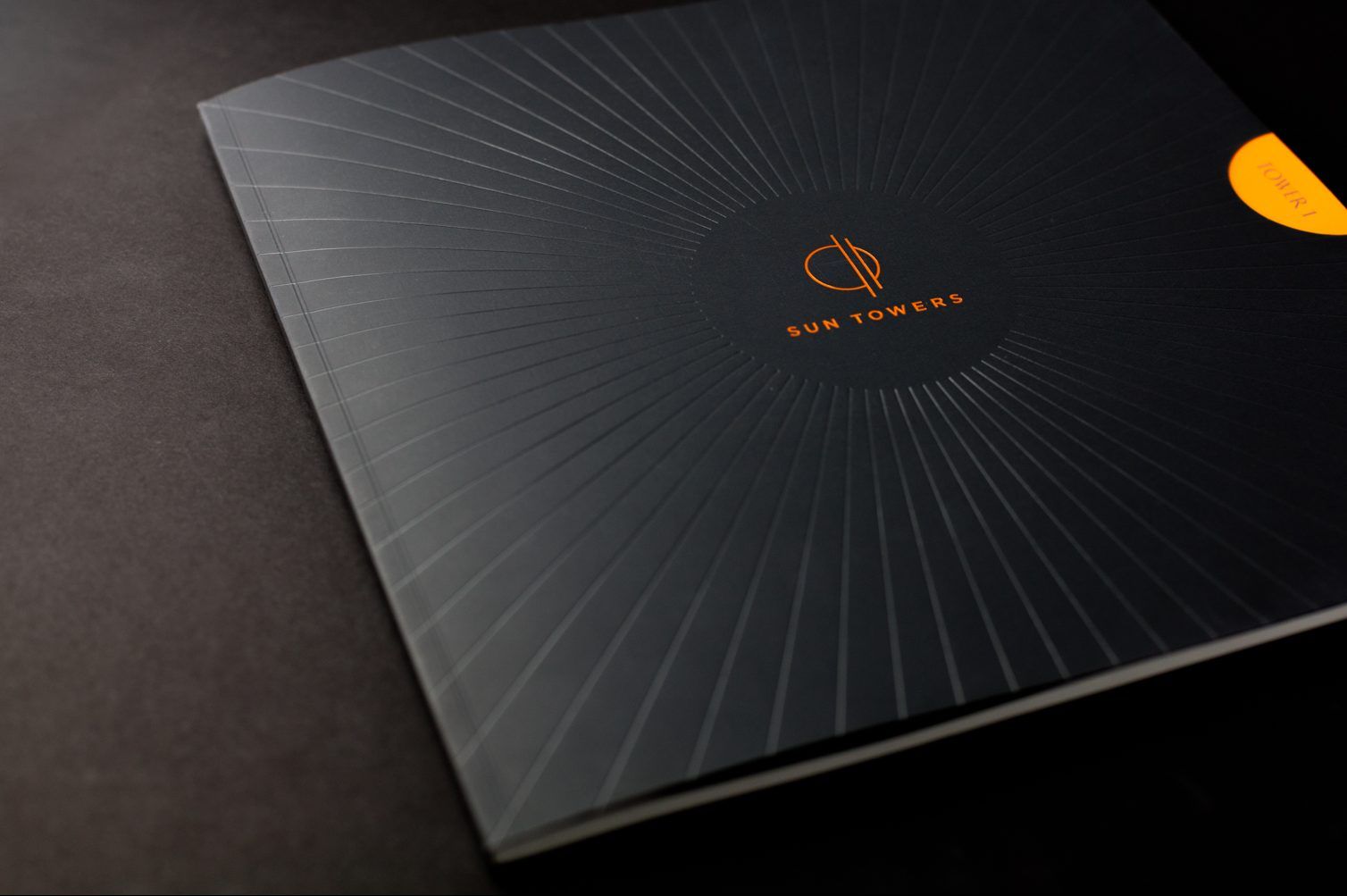 A series of high-end brochures for Belford's Sun Towers real estate development: An oversized A-Kit (advance sales kit) printed on plike, a one-of-a-kind "plastic-like" surface which prints beautifully, provides a tactile sensation and an artistic innovation. These brochures are designed to peak realtor interest and leverage consumer appeal of the high-end luxury real estate market. Transparent papers, custom maps and a generous use of white space allow the design to feature upscale amenities including the exclusive Solaris Club, rooftop terraces, innovative common rooms, pools, health clubs and daycare with pull out floor plans. The consumer vanity brochure is meant to create desire and is designed for serious buyers.
THE CENTRE – BROCHURE CONSUMER – SILVER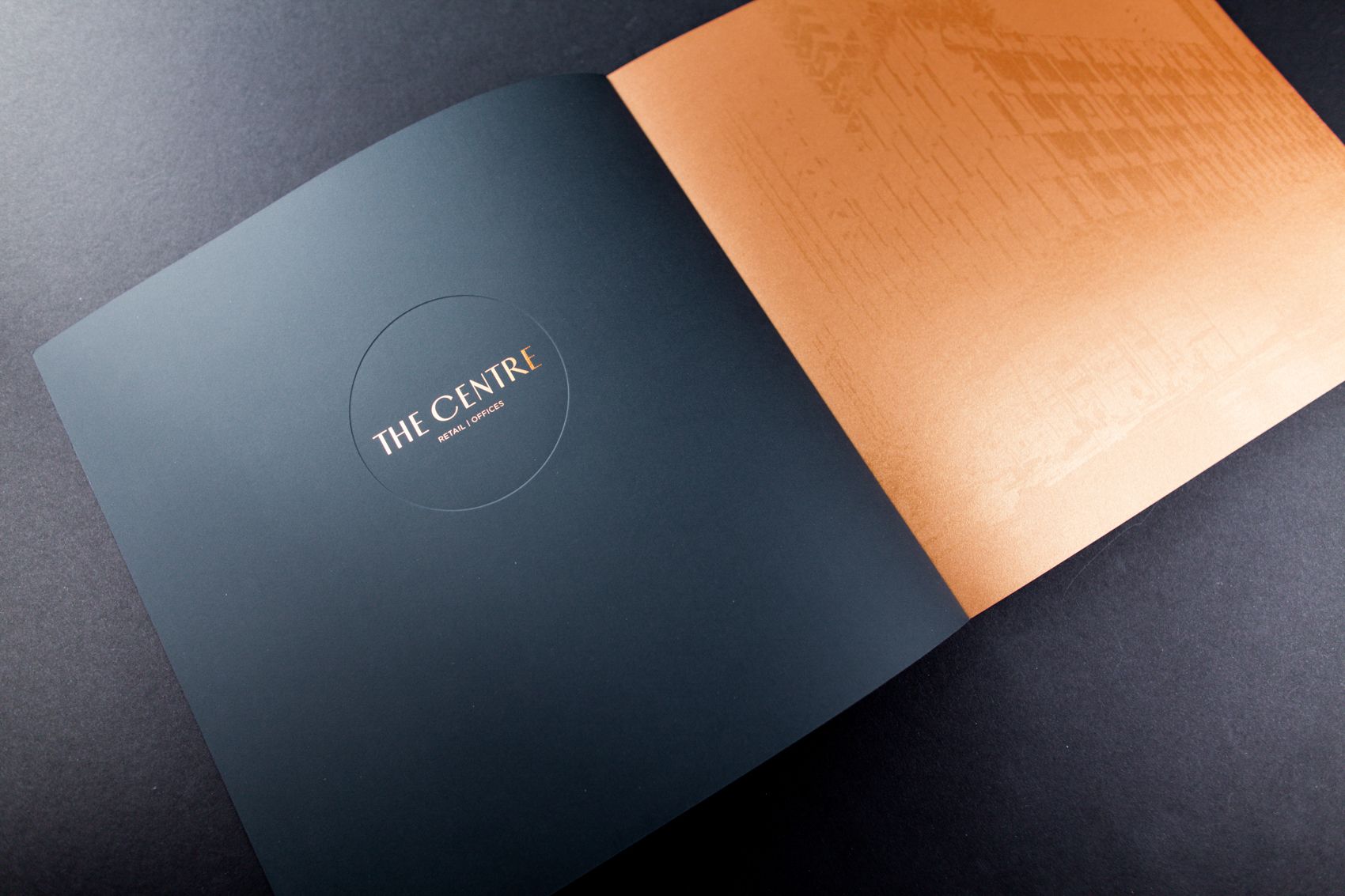 "The Centre" brochure was created for the commercial portion of Sun Towers in Metrotown. It features premium papers, foils, embossed finishes and varnishes to reflect the luxury and quality of the office spaces. As a special giveaway premium for the gala opening of The Centre, Hangar 18 designed a custom holder for Moleskin notebooks to be given to attendees. We used a copper foil on a copper stock to create a rich, luxurious look.
H18 BUSINESS CARDS – CORPORATE ID – SILVER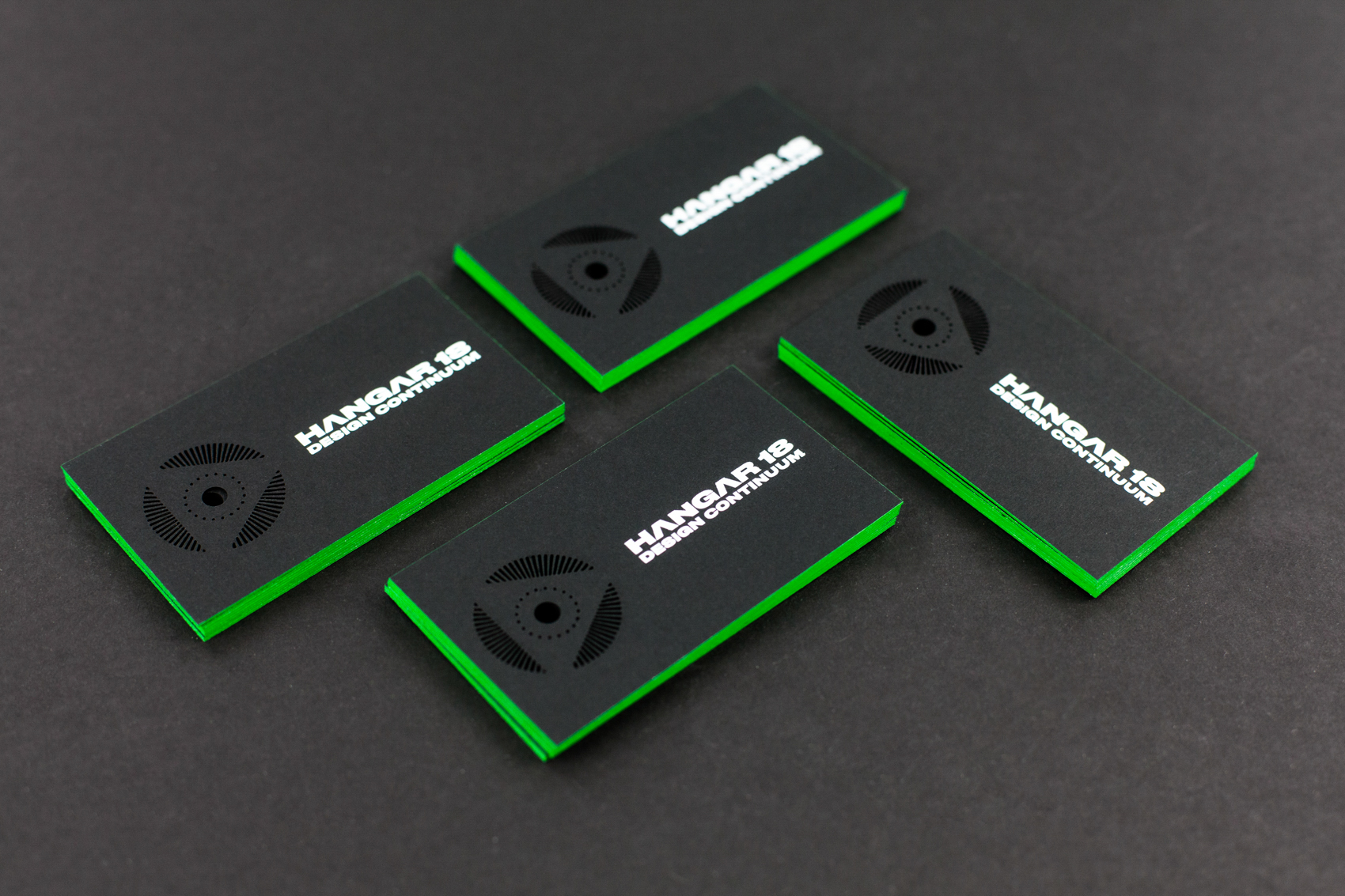 As part of a brand refresh in 2017, we created a new business card that pushed the boundaries in detailed laser die-cutting by using a very thick black stock. It included silver and green metallic foil stamping as well as striking green edge painting. It was designed to evoke the mystique of science fiction and space exploration, yet still look professional and polished. When light passes through the die-cut, it casts an eerie shadow of the underside of a UFO which always starts a lively discussion.
H18 WEBSITE – SILVER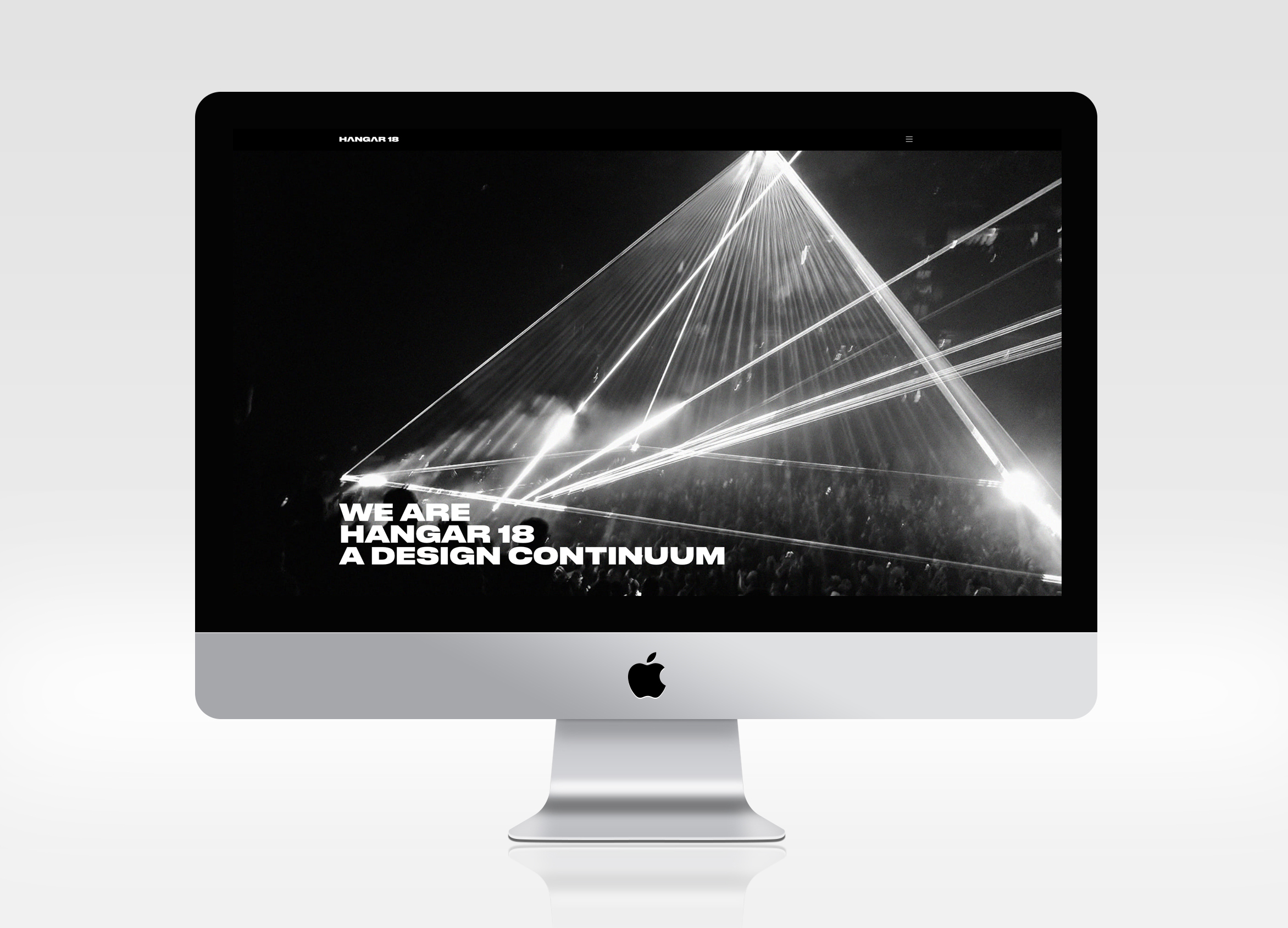 As part of a complete brand refresh in 2017 to become Hangar 18 Design Continuum, we created a custom website that would better reflect the essence of our brand, our creative process and to evoke some curiosity about the mysteries that are created in Hangar 18. The overall base of the website is striking in that it was completely created in contrasting black and white with an accent colour of bright alien green which is only used very selectively for effect. This allows the work page of the creative to come alive, almost popping off the page with colour. Built to be mobile friendly and responsive throughout, the headlines and subheads change size and weight responsively while the UX is streamlined and intuitive for a creative website of this magnitude.
BCSPCA – PUBLIC SERVICE TELEVISION / INTERNET – GOLD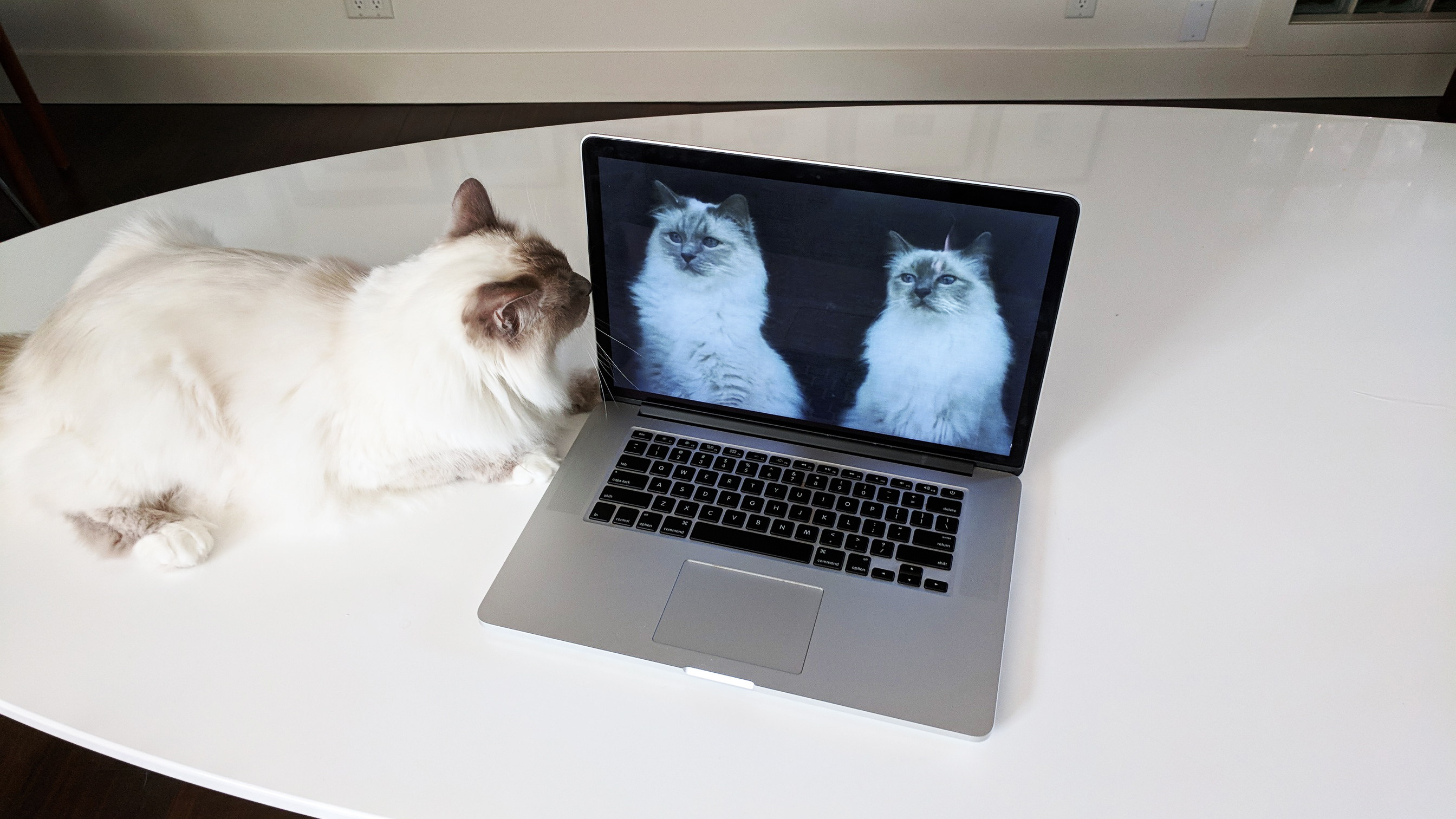 The BCSPCA needed a brand awareness campaign idea that informed the public that the organization understands the important emotional role animals play with their caretakers – the bond is precious. H18 developed the strategic thought that "Animals bring out the Human in us" and documented "real people with their pets," including a 103-year-old senior in the hospital, and an owner grooming their horse. The small and agile crew spent long days over an entire week capturing real and spontaneous moments that happened throughout the day. The theme of Love, Play, and Healing were captured in three fifteen second TV/internet spots edited to adapted versions of "Are You Lonesome Tonight".
Award-winning ads are incredibly effective
According to Drew McLellan, a veteran of the advertising industry for nearly 30 years, the truth is that awards are more than fancy, feel-good paperweights; they're actually good for the bottom line. Here's why:
Awards establish benchmarks. Award-winning ads are 11 times more effective than other ads. Using awards' standards for projects can raise the bar within your agency and increase overall work quality. By distinguishing the best talent, awards also help establish benchmarks that inspire and shape the industry.
Award-winning ads boost client visibility. Agency leaders often object to applying for awards because the judging criteria focus on campaign creativity rather than results. But awards shine a spotlight on your clients as well, and you can increase this positive impact by highlighting their role in the creative process. For example, one award-winning agency issued press releases that emphasized its clients' achievements, which raised the clients' profiles and made the agency seem exceptionally customer-centric.
Winning boosts morale. People want to work for winners, and employees who feel like they're part of a successful team are going to do better work. Awards are also a great selling point for new recruits. They want to work for agencies with visibility and growth potential. Awards tell them that yours has both.
You can read the full article here.
If you win, make sure you flaunt it.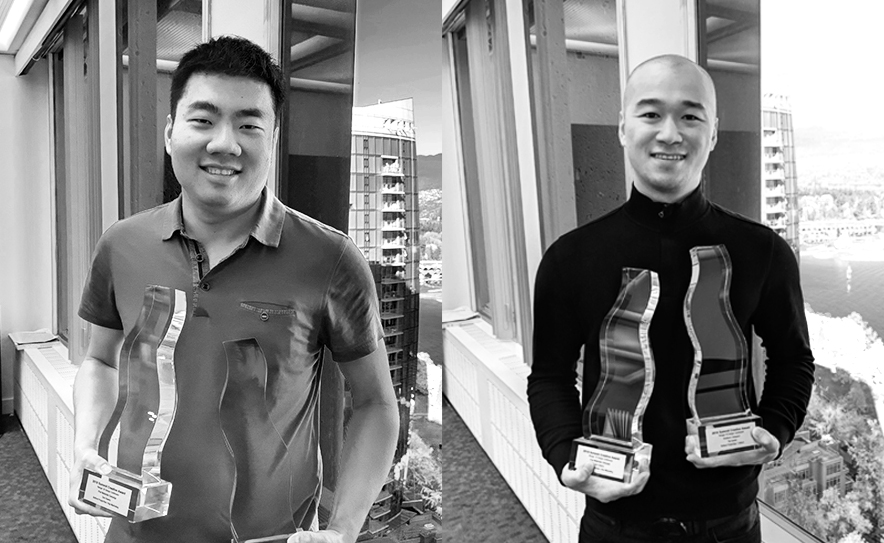 Drew suggests that agencies should announce their creative accomplishments on their website when they do receive recognition. Before we made any announcements we waited for an opportunity to include some notable people that were key to making it all happen, our clients. We enjoy a healthy relationship with clients who demand the best work because they care as much as we do. Together we push each other and support each other, working in tandem to make the work great. Without clients who care, none of the award-winning work would be possible. We arranged a simple get together with a surprise gift bag with the two awards we had just won. They were elated and felt proud of the accomplishment, feeling the same joy we felt when we first received the news. The strong bond and sense of respect we established over the past while grew a bit more just then. H18 works hard to do great work each day (and night) that makes clients happy and gets results. It's equally important that everyone involved gets recognized, especially our clients when the work exceeds expectations and wins industry awards.
A few other awards in the past that make us smile.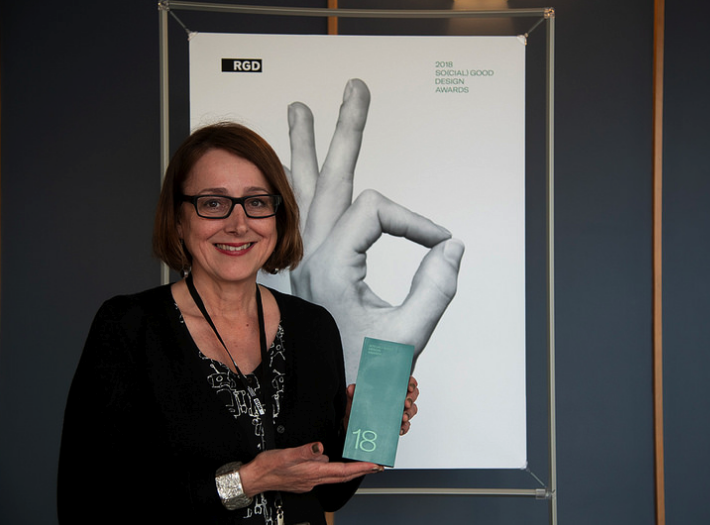 A sure sign of good Karma was the one other award we won in the spring of 2018. The Association of Registered Graphic Designers, RGD was calling for entries for the inaugural So(cial) Good Design Award they were launching. RGD invited submissions of graphic design projects from around the world done under the theme of communication design for social good; work with the power to incite action and make meaningful change in the way we live our lives.
We felt especially proud of the Vancouver Votes app we designed based on the idea of gamification. The web platform was designed not unlike a fantasy sports draft. When the voting results came in we were all pleasantly pleased. Younger voters turned out in force. Final voter turnout was announced as 43.4% in 2014, up from 35% in 2011.
Take a bow
When the celebrations are over and the award is put on a shelf, it's time to get back to work and push yourself to keep performing at the highest level. Remember, award-winning work involves a lot of things to come together. Don't forget it's not just the work, it has a lot to do with the process. Besides great creative and hard work, it takes great clients, a smart strategy, and teamwork. Put it all together and sometimes you hit gold.