COMING FULL CIRCLE:  A CONCISE HISTORY OF HANGAR 18

It's 1996, three years after Woodward's Department Stores closed their doors forever. Vida Jurcic, former Art Director and Nigel Yonge, former Copywriter at Woodward's, having teamed up as a freelance creative duo, are busily working for every major advertising agency in Vancouver from the seventh floor of the Dominion building, once the largest skyscraper in the British Empire. To their chagrin, a lone designer moves in next door. They say hi in the hallway, and within a few weeks, there's a knock at the door of their Eliot Ness glass-doored office, and there is Sean Carter, standing at the door with a box of doughnuts and a big smile wearing his ever-present suit. He has a proposition, and over lunch the next day at the now defunct Hard Rock Cafe Vancouver, the trio realize that they're all sci-fi buffs, and settle on a name for their fresh joint venture: Hangar 18 Creative Group Inc.
Then came the challenge of finding an office to accommodate all three with room to grow. There was no question that they wanted to stay in Gastown, and they lucked out with a large, affordable office on Water Street in the historic Packing House. The only problem was that they needed to do some major renovations, including ripping out the smelly, old carpet. Luckily Sean's brother was a contractor, and although that helped, the trio did a lot of the heavy lifting themselves, including carpet ripping.
Vida and Nigel Creative already had a pretty good direct client base, including Eaton Centre Metrotown, Richmond Centre and Pharmasave National, and Sean had a few of his own to bring into the mix. What really put Hangar 18 on the map was its unique creativity and attention to detail. In their first year of business, they won a handful of Lotus Awards, mostly for their own promotional endeavours. The big ad agencies were starting to notice, including Dean Ponto, Associate Creative Director at BBDO.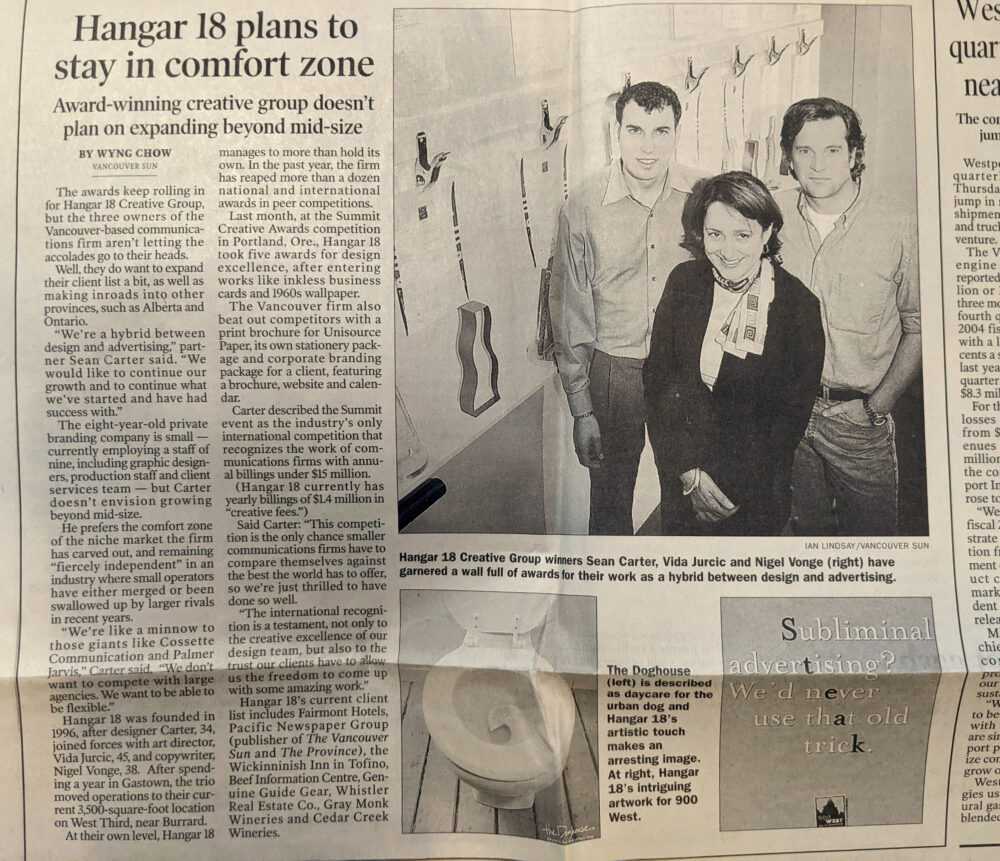 After three years and a nasty fire at the Purple Onion, a nightclub just below the H18 office, it was time to move on. Hangar 18 sadly departed from Gastown and moved South, just outside of Granville Island to 1737 West 3rd Avenue, first to a modest space, then to a massive space in the same building. Within a few years, and with a superstar sales guy and many new clients, including YVR, and faithful old ones like Pharmasave and Richmond Centre, Hangar 18 filled that space with 23 bodies, including an in-house web department. After three years in business, H18 made the BC Business magazine's top 10 fastest-growing companies list, and the biggest graphic design firm in the city list at number one in 2010.
Sadly, 2008 had rolled around in the meantime and it was time to get leaner. Pretty soon H18 had to move into a smaller space on the same block on West 2nd Avenue, but alas, after spending money on renovations, the landlord decided to sell the building and it was time to move again, this time to a nightmarish, thankfully temporary shared space on Boundary Road. The remaining staff of six were crammed into the equivalent of a solarium with no air conditioning and no windows that opened. During all these migrations, Sean had left to pursue his own venture, and Nigel had semi-retired and moved to Duncan, but Vida soldiered on, riding the storm, and finding a new space in Chinatown with a new partner, Dean Ponto, who also became her life partner. They were married in 2018 at Hycroft Manor in 1930s Great Gatsby style with Nigel giving her away.
In 2016, Hangar 18 realized that being super agile and creative was not enough. It was time to rebrand as the Hangar 18 Design Continuum. The whole concept of the "continuum" is that we want to be there for our clients continually. Once a project is done, we want them to know that we are always there to support them. Our mantra is: Do the right thing.
Come 2020, COVID hit. The Chinatown office is no longer suitable, and thanks to a tip from a client, Hangar makes the most of the exodus from the downtown workspaces to work-at-home culture and lands an amazing space in Gastown overlooking Water Street and the John Fluevog Shoes sales floor. Hangar 18 Design Continuum has come full circle and is back in this vibrant, inspiring place that has heart, history and soul. It's heartwarming to see familiar things still there after many years: the Cottage Deli, the same crowds at the Steam Clock, the talented street artist in the Tilley hat … finally with a name discovered: Sam Logan. His elegant presence has graced Gastown for more than three decades.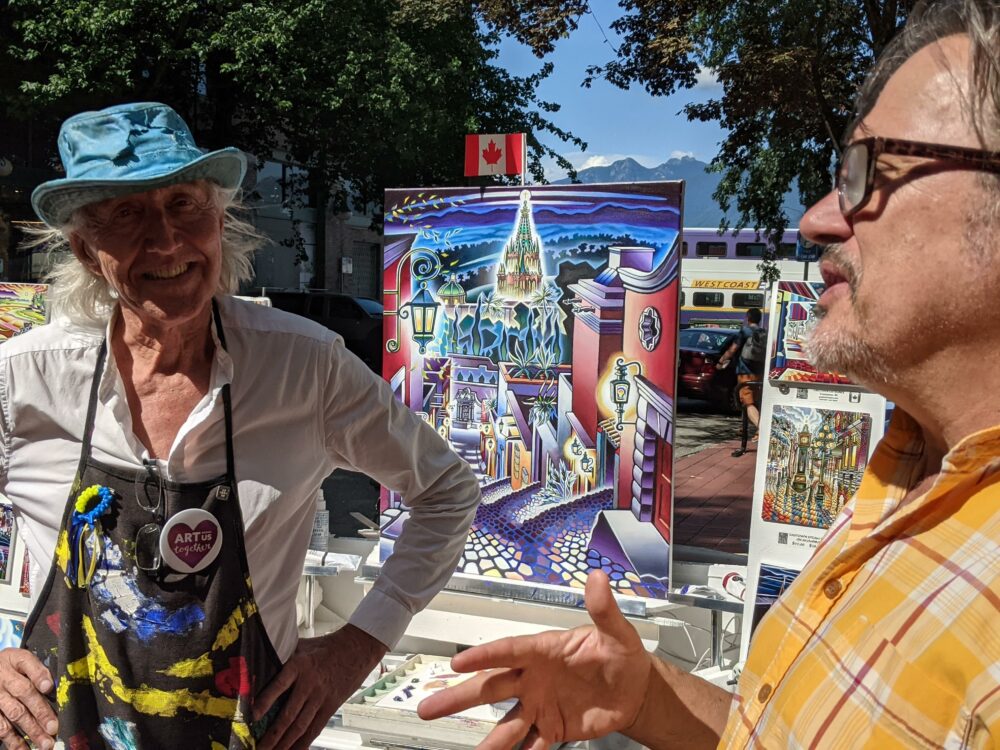 Gastown was the first place Vida landed with her family after a three-day journey from Toronto by CP rail in 1974, just three months after immigrating from Australia. It was the place she first set eyes on her future life and work partner in 1992 at The Landing on Water Street (BBDO offices). And it was the first office location of the first Hangar.
The "now" Hangar is as vibrant as ever. Although it may be lean, the team can tackle any project, in any sector, no matter the size. The resources, experience and insights collected over the years are plentiful. Hangar 18 truly is a "Design Continuum" with a passion for working with like-minded clients who want to impact the way we treat our planet so that it too can be a "continuum" for centuries to come.
Hangar 18 has come full circle. Hangar 18 has come home.