An Interview with Sam Logan, Gastown Street Artist
Sam Logan has been a fixture in Gastown since 1992. His colourful, graphic paintings have delighted hundreds, if not thousands, of tourists and locals alike over the past three decades, and his giclées are gracing homes all over the world.
Born in Denmark, he moved to Canada with his family when he was five years old, and grew up in Toronto where he attended the Ontario College of Art and Design. Although the college provided a great education, he supplemented it with travel to 17 different countries.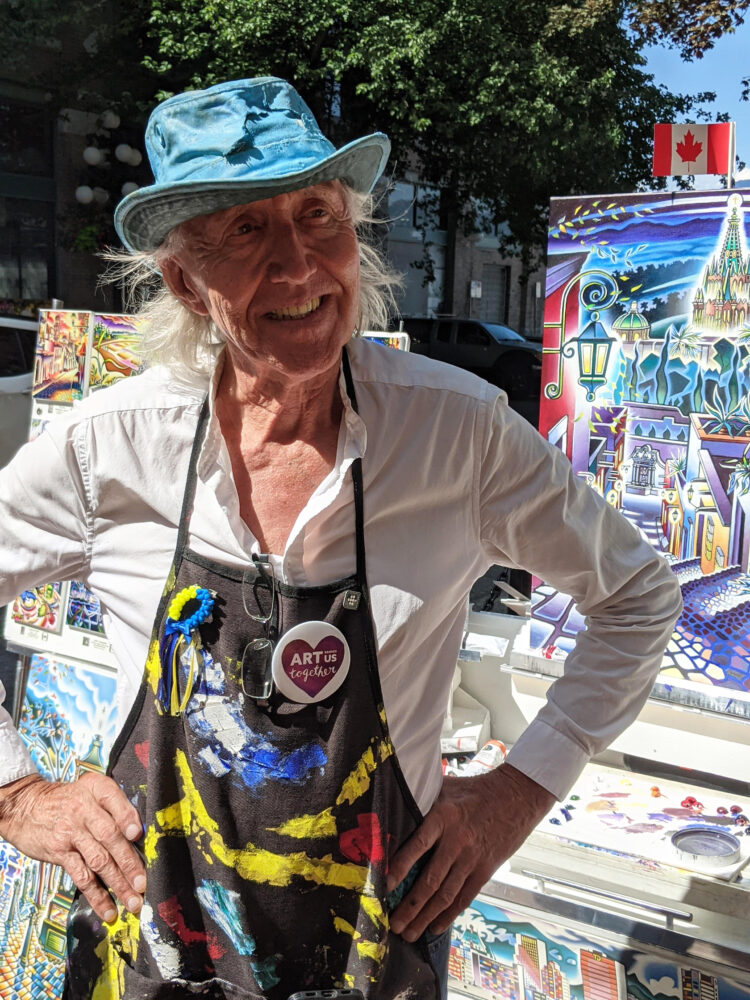 In 2019, he and his wife spent three months in Guatemala with Project Somos, teaching art classes to children aged 3 to 5, and 6 to 12. The influences of the Guatemalan sunshine are echoed in the bold, clean colours of Sam's work.
Sam's work has been exhibited in numerous local galleries, including the Bau-Xi Gallery and juried shows at the Sinclair Centre, on Granville Island and many others.
He lives by Granville islands and cycles to Gastown on a cleverly appointed bike that accommodates his easels as well as a stash of finished work. "Cycling here is my workout", says Sam.
He wasn't always in Gastown. In 1980, he started as a Stanley Park artist. Dean Ponto and I caught up with Sam on a vibrant, sunny Friday afternoon in Gastown and asked him a few questions.
What are some of the changes you've seen in Gastown over the years?
"

There used to be a lot more diversity in terms of businesses; places like The Kite Shop, The Town Pump etc. Now there are mostly a lot of high-end furniture and clothing stores."
What is your favourite time of day in Gastown?
"

Noon to 5 pm. Those are the times I am here."
You have a unique style. Which artists have inspired you?
"

Travelling in 17 different countries has exposed me to many different big-name artists.

The Group of Seven is an inspiration too. The sum of everything, plus myself is what creates my individual style."
What is your medium? Do you use photographic reference, or draw from life?
"

I paint in both acrylic and oil. I sketch my pieces from life, then build on those sketches."
Were you always an artist?
"

Yes, although I did a lot of odd jobs to support myself over the years, mostly in sales and customer service."
As we were speaking to him, many tourists stopped by to admire Sam's work, including young Lucinda Paterson from Newcastle, Australia who had many great things to say about Sam's work. On a visit to Vancouver ten years ago, she had purchased a piece from him as a gift for her mother and was thrilled to see that he was still there so she could purchase a memento for herself.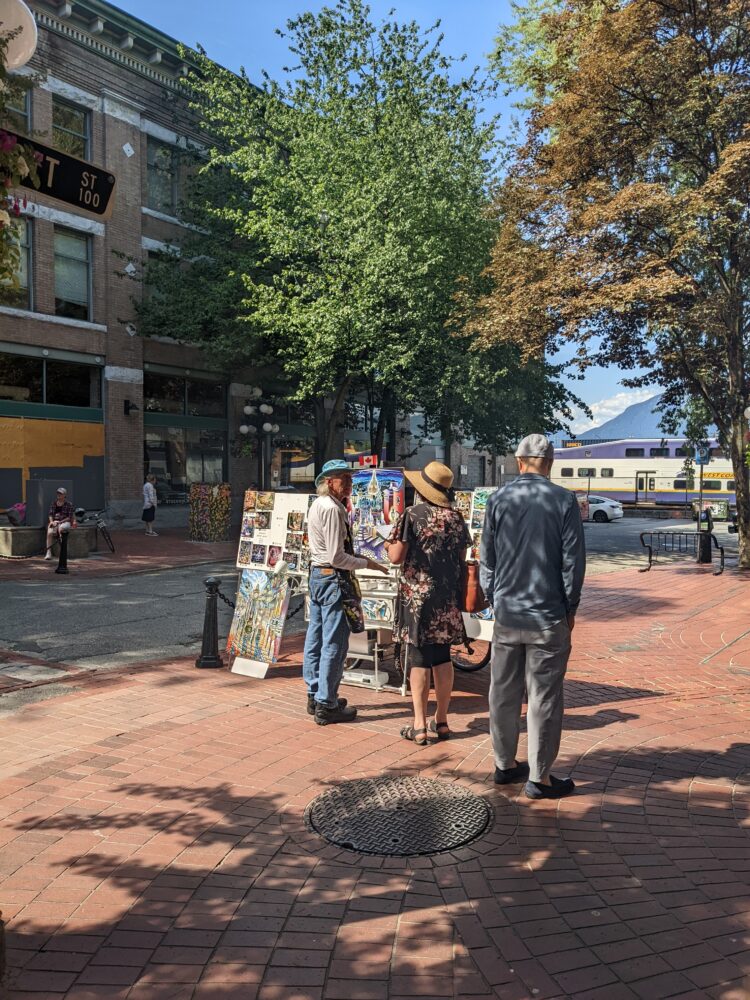 Lucinda had some great things to say about Gastown too: " Every time you come to Gastown, you have to get something. It's so eclectic and cool!"
And a part of what makes it so cool is Sam Logan. He truly is a piece of the heart and soul of Gastown. Here's to the Sam Logan Continuum! Spreading Gastown memories around the world, and joy to countless visitors.
Check out Sam's website at www.gastownsam.com
E-mail: [email protected]