Meet Natasha, our fabulous summer intern at H18. Natasha found herself thrown into the middle of several challenging assignments, like creating an alien QR code sticker, brainstorming names for a townhouse development, creating the H18 Sci-fi themed Christmas message in July and, of course, presenting a detailed competitive analysis over Zoom.
Natasha aced it all without breaking away from her signature smile. 
Read her Q&A below to find out more about what she did this summer.
Q: QUICK WORD ASSOCIATION, WHAT WORDS DESCRIBE YOU?
A: Enthusiastic, Playful, Crafty… and what could only be categorized as a Chronic Doodler!
Q: IF YOU HAD A SUPERPOWER WHAT WOULD IT BE AND WHY?
A: If I could have any superpower, it would 10/10 be the ability to flip through any book, and then BOOM, I have internalized all its information! There are so many books I wish I could consume in a blink, but maybe this superpower would end up turning me into a computer…
Q: WHERE ARE YOU CURRENTLY STUDYING GRAPHIC DESIGN?
A: This fall, I will be entering my last year at Capilano University in the IDEA program of Visual Communication and Design! This program has done amazing things for my knowledge of graphic design and is what ultimately connected me with Vida: my fantastic instructor in both my first and second years.
Q: WHAT ARE YOUR HOPES AND PLANS FOR THE FUTURE?
A: In the short term, I'm looking forward to my end-of-year grad show, which sums up my cohort's work from all four years of schooling. For the long term, I hope to take the Branding and Advertising industry by storm, work with more amazing people- like I did at Hangar 18, and maybe host a Ted Talk one day!!! (That one is a much more distant hope!)
Q: WORKING IN THE GASTOWN OFFICE OFFERS GREAT PLACES TO EAT, WHICH WAS YOUR FAVOURITE? AS IN, WHERE ARE WE TAKING YOU FOR YOUR GOODBYE LUNCH ON FRIDAY?!
A: Before working here in Gastown, I had no idea there were so many fantastic eats in the area! Out of everything I tried, Local's fries- which look deceivingly average, had to be some of the best fries I've ever tasted.
Q: WHAT IS THE MOST VALUABLE THING YOU LEARNED WHILE WORKING AT HANGAR 18?
A: Command-Shift-V. Paste in place on Illustrator.
Somehow I had gone so long without knowing this was even a function, and it went on to make my work exponentially easier over the course of my internship! A big thanks to Matea for this tip!
Q: YOUR FAVOURITE PROJECT YOU WORKED ON AT H18?
A: Ooh! It has to be a tie between the Alien Head QR Sticker Campaign and all the elements I got to work on from the Axestone Brand. For Axestone, I got to try my hand at lots of new design challenges, and the sticker campaign was super fun to play around with.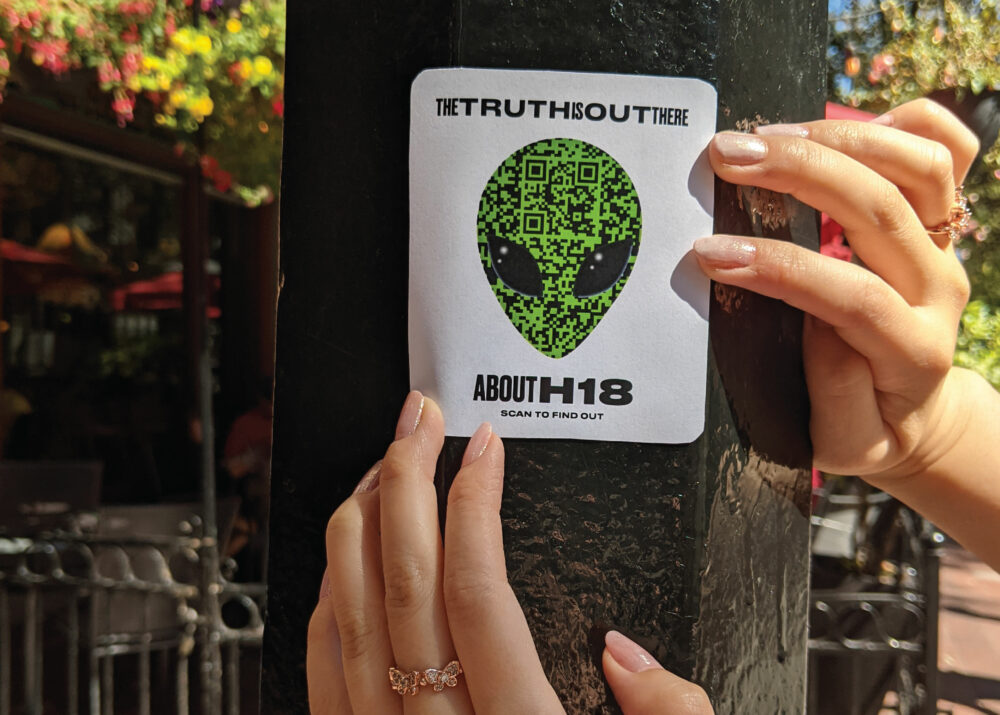 Q: WHAT DO YOU SEE AS YOUR BIGGEST SUCCESS DURING YOUR INTERNSHIP?
A: I feel like I had to take on a number of new challenges in the last two months of the internship, tackling more web projects and overcoming some animation setbacks! My biggest success in that way was learning how to charter these new waters, but also how to ask for help when I got really stuck.
Q: TELL US YOUR FAVOURITE CORNY JOKE.
A: What do you call a factory that only makes ok things? A Satisfactory! *Badum-Tss*
Q: ANYTHING ELSE YOU WANT US TO KNOW?
A: With my background primarily in fine arts and illustration, I had never really considered myself a true "Designer"! So you can imagine how simultaneously excited and scared I was when Vida told me they could have me on as an intern this summer! Over these four months, I learned a tremendous amount about not only design, but web design, competitive analyses, and production. I can't thank Vida, Dean, Lyndsey and Matea enough for all the mentoring and kindness they showed me!
CHEERS TO YOUR GRAD YEAR, NATASHA!