Amidst the outbreak of COVID-19, Hangar 18 was hoping to find a way to support our community and those most affected by it. Lucky enough, we landed upon a great way to support both our local health heroes and those in need in the community.  
Supporting Health Heroes
Our very own Lyndsey Jackson informed us of an initiative that her best friend of 28 years was leading. Kristi Turner—local health hero—is an ER Nurse at Lion's Gate Hospital in North Vancouver. Before beginning her schooling and career as a nurse, Kristi collected volunteer hours at a local care home, Cedar Garden, where she led trivia and exercise classes for the elderly. For five years she worked bedside on General Surgery and Orthopedic Surgery before going back to school at BCIT to receive a specialty certificate to work as an ER nurse. Since December, she has been working as an ER nurse, and what extraordinary times it has been. 
With the devastating effects of COVID-19 on our community, Kristi decided she wanted to do something that was going to have a positive and meaningful impact on one of our most vulnerable and impacted populations: senior citizens. "It was difficult to think about what they must be going through being isolated from their family, friends, and fellow residents." With this thought in mind, she contacted five different seniors facilities across the North Shore (a mix of long-term care, assisted living, and independent seniors living) in order to gain approval for the proposed project. Included amongst these homes was Lynn Valley Care Home, which endured some of the most devastating losses near the beginning of the COVID-19 outbreak in Canada. 
HEARTFELT and handwritten
The idea was to gather as many handwritten cards from members of the community to let our seniors know that we were thinking about them and supporting them during these difficult times of social distancing and isolation. Lyndsey challenged the Hangar 18 Design Continuum team and the wheels were set in motion. We became invested in this ambitious project and wanted to go beyond expectations for the seniors. How could we create a large series of meaningful cards that were both positive and unexpected while we were at home with limited resources? Ideas flew back and forth and the excitement grew. The solution was repurposing the many used cards that had been sent to us over a period of time celebrating all types of different occasions—humorous cards for birthdays and Father's Day, sincere cards for Valentine's day, Easter, and Christmas, along with get well soon cards. Each card was changed in some way to make it positive, hopeful, timely, or reflective for a senior.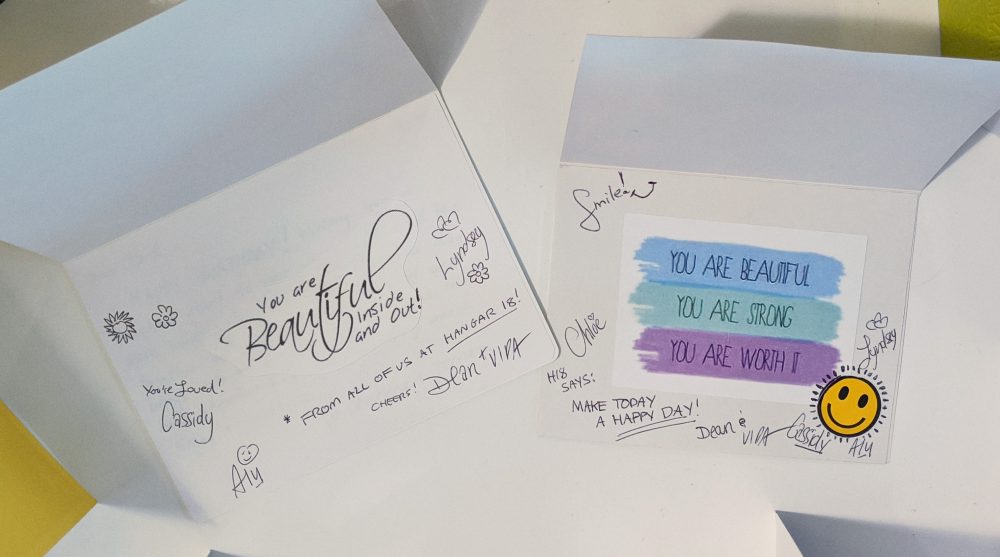 hangar from home
Working from home, the appropriate cards were sourced for potential and messages and patches were printed and cut out to match the cards. A kitchen table and an outdoor gluing station on a patio became the design studio. A Happy Birthday card became a Happy Everyday card. An illustrated Super Hero card from a trade show was transformed into a card fighting off Covid-19. Each of the selected 62 cards became a design problem and was repurposed with unique patches pasted somewhere onto the card to change the meaning. Some patches appeared on the front of the card while others covered up the inside of the card with messages of support, admiration or inspirational thoughts. Each card was signed by the crew of Hangar 18 and divided into different folders—funny cards, sincere cards, or gender specific cards for delivery to the seniors.
The drop off was April 7th, just in time for Easter weekend. The goal was 660 cards to be delivered to the approved seniors facilities. Those results were blown out of the water, and a total of 705 cards were collected over the two week period. Many people left their contact details on the cards and have since created pen pals, or received phone calls from the elderly that were touched by their cards. One of the card-givers received a phone call from a woman that received his letter. They chatted for a long time over the phone and quickly became friends; the woman even extended an invite to her 102nd birthday coming up in October!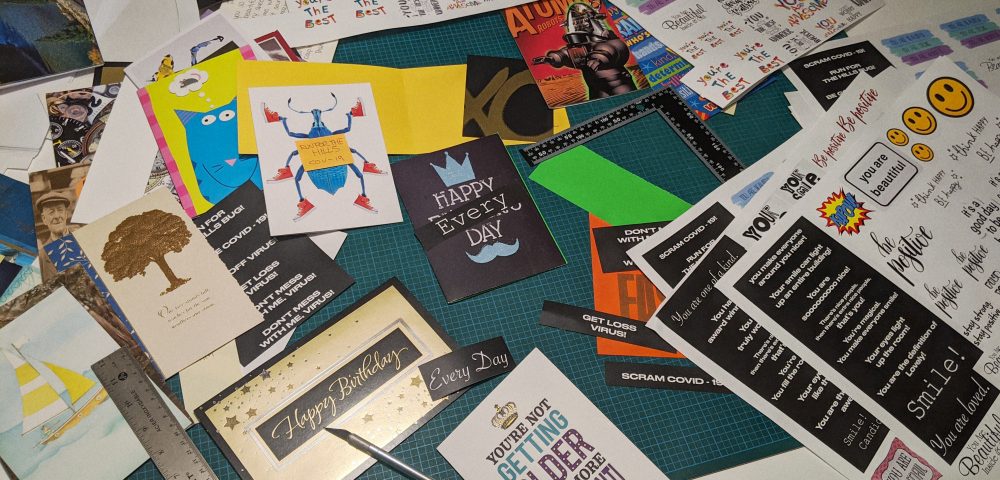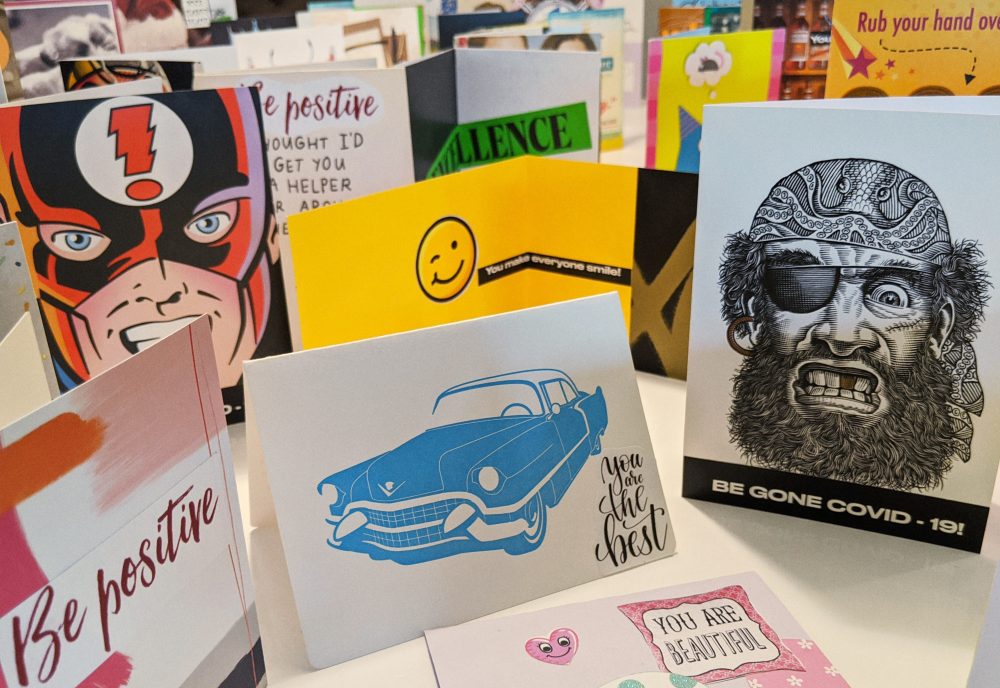 GET INVOLVED
Global BC featured the project on April 25th as part of the Our BC – Community segment. Tune in here to watch the feature!
May is Mental Health Awareness Month, and Cards for a Cause is moving into Round 2. The goal for May is to focus on organizations supporting those with mental health issues. The message remains the same: We are thinking of you and supporting you! Contact [email protected] for details if you'd like to get involved.
Project led by Kristi Turner
Instagram: @cards_foracause